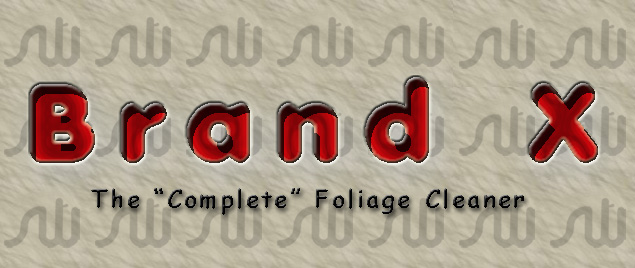 What is Brand X?

Brand X is Southwest Plantscape Products' private label of a scientifically formulated solution designed primarily to clean and shine live interior foliage plants. It is a silicone based product that effectively, with one application and no rinsing or wiping, removes dirt, dust and water and pesticide spots from the foliage without clogging the plant's pores. It also help repel dust from settling on the plant's foliage.

We refer to Brand X as 'The Complete Foliage Cleaner". Using Brand X results in a totally clean plant.

NOTE: Brand X is labeled as a foliage plant cleaner/polish. It is not labeled as a pesticide nor sold as a pesticide. It may have an effect on various pests, however is not sold for that use.



Who Uses Brand X?

Brand X was developed for and has been used almost exclusively since 1998 by Interior Landscape Contractors, otherwise known as the Interiorscape industry. These professionals have chosen Brand X as one of their favorite products and contractors throughout the United States, Canada, and even as far away as New Zealand use the product daily.

Several years ago we asked approximately 100 users several questions regarding their experience with using Brand X and we received a written response from 56 of the questionnaires that we sent out. All of their answers and comments regarding Brand X have been correlated and presented on another page on this site under the
testimonials"
section. Both favorable and unfavorable responses have been included.



Who Is SouthWest Plantscape Products?

SouthWest Plantscape Products was founded in 1986 as a division of one of the largest Interior Landscape Contractors in Southern California, Wilcox Environmental Interiors in San Diego. This firm at that time, with almost 20 years of professional experience, serviced hundreds of commercial and residential accounts, maintaining both interior and exterior plants. Through this experience and familiarity with what tools and accessories were needed by the industry, Southwest Plantscape Products was established to distribute these items to the industry nationwide.

In 1993 Wilcox Environmental Interiors, Inc. was sold to Orkin Pest Control (now Ambius-San Diego), however Southwest Plantscape Products was spun off. Still today they distribute tools and accessories to the industry generally throughout the United States and Canada and a few international firms. For the past 19 years Brand X has been their most popular product.



Who Can Buy Brand X?

While Brand X has been almost exclusively sold to the trade over the years, many garden sites on the Internet have found the product and recommended it generally for the purpose of eradicating scale and/or Mealy Bugs on foliage plants. We have, in the past, made the product available to anyone who called us, however now because of increased interest we have established this Web Site to make Brand X available to the public at large.

SouthWest Plantscape Products
"accessories for the maintenance of interior plants"

265 Durley Ave Camarillo, California 93010
(805) 988-0529 (800) 333-7977