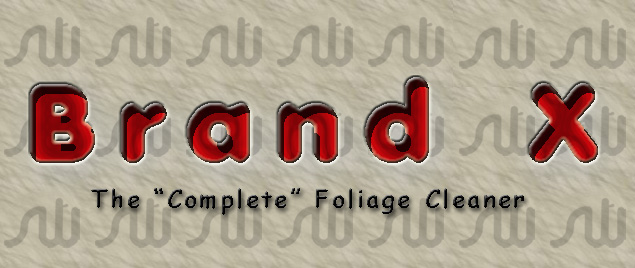 On a questionnaire sent to a random 100 users of Brand X

(all Interior Landscape Contractors)

56 users replied and they have said the following:

HAVE YOU EXPERIENCED ANY PHYTOTOXIC RESULTS?

ON WHICH PLANTS:

Some new growth on Marginatas.

A few palms, mass cane, pleomele reflexa

Nasturtiums crashed.

China doll (burnt)

Ficus Benj. (small amount of leaf drop)

Scheflera amate & arboricola if mixed to full strength, so we mix half strength for these plants. (also Satan Leaf)

Lost 2 Ming Aralia, however not sure Brand X was the reason. I have had no problem with plants that have stiffer leaves.

A little on fuzzy leaf plants.

Some Marginata and Janet Craigs

Arborocola and Schefflera Amate have on occasion gotten necrotic rings. Asplenium Nidus got bad rings
under the leaf at 4 oz/gal but not at 3 oz/gal. No worry about use in direct sun.

On Pothos & Areca Palms, however I believe the concentration may have been too high.

DO YOU LIKE ITS ABILITY TO CLEAN?


COMMENTS ON ITS CLEANING ABILITIES:

Plants look great and not plastic.


I use it on plants that I take outside for a good spray & let drip dry.


Amazing!


Leaves a healthy shine without looking spotty.


I worry about the green dye in he product.


With one big Ficus in an atrium the only way to get it cleaned really nice was with Brand X


Ficus leaf stain completely irradiated after one use - had tried for months with several other products with no result.


The leaves have a natural shine without a residue like Pokon when you don't wipe.


Like the way dust does not stick to foliage.


Like the shine.


As good or better than Leaf-Tek.


Love it. Works great.


Leaves hard finish shine-not oily. Seems to repel dust. OK, but not great for removing honeydew.


Very pleased.


The plants do not get as dusty, and when they do it's easy to get dust off with a feather duster.


Works well on plastic pots also.


Scent is nice. It cleans and shines.


Leaves a natural shine.


Trouble with cleaning wettable powders off leaves.


Spreads fast and evenly, nice slick shine, dust slides off after use.


A little slicker look than I prefer.


It takes me two applications for real good cleaning.


Not only does it leave a nice non greasy shine, but it also helps keep down the dust and doesn't spot if properly mixed.


Works best when allowed to disperse across plant leaf overnight.


Can use more if necessary because it is non-toxic.


It is grand for cleaning large beds of plants.


Great on palms. I still sometimes hand wipe dracaenas.


Do not care for the higher shine at 4oz/gal. I have been using at 3oz/gal for some months.


Very Good - leaves plants looking good. Can use more if necessary because its non-toxic.


It works well without the glossy shine.


DOES IT KILL PESTS?


WHICH PESTS ARE MOST LIKELY TO BE EFFECTED:
Mites Scale Aphids Thrip Mealy Bugs White Fly
25 16 7 3 43 3

COMMENTS:

We tested very carefully. Had marvelous success.


Helps control mites.


It's wonderful !


Seems to deter pests, less effective eliminating them.


I integrate about three different types of control like Hot Pepper Wax & Jungle Rain.


Does not effect scale.


Works well on scale.


Quite surprising results.


Found that mealy bug just kind of glide off Ficus leaves.


Have used it in conjunction with systemic pesticides - leaves plants looking great for client.


Mealy bugs seems to persist on Aglaomema. Foliage not treated is fair game to insects.


Seems to be controlling pests.


Takes several applications, but is very easy to use.


Works well against scale & mealy on most plants. For some reason not effective on ponytail with
Mealy Bug despite repeated spraying. Not good results against aphids and mites.


Seems to be working well on Thrip on Ficus.


We have not found it works well on scale or mites.


Works to discourage most pests including mealy bug, some scale, mites and even thrip.


Keeps insects under control.


Seems to work on mealy bug.


Wish it was more effective on mealy bugs.


Killed mites very well.


Works better than most items I have on mealy and spider mites.


Not good on mealy bugs.


I have never used a product that is so effective on thrips and mealy bugs.


A constant program works best.


It seems to work best on mealy bugs.


Did not eliminate the spider mites or mealy bugs.


Great cleaner with very good insecticidal properties. Experienced delayed, slow leaf
drop on Ficus Benj. Must dilute properly to avoid excess shine. Dries hard &
doesn't stain. Easy to mix with water. A very useful product.


Effective where applied properly.


We use it on mealy bugs and mites...not sure about scale problems.


GENERAL COMMENTS ON BRAND X:

Great Stuff!!


The best I have found. I am so glad you told me about it.


The most fabulous plant cleaner I have seen in years on the market. I tried a pint and am in love.


I use it more for its ability to kill pests.


Really just starting to use it


I think it is much better than the alternative more toxic chemicals that are available.


Nice.


Employees like the shine.


I like it!


More efficient plant cleaning.


I expect to continue to use it regularly. The most impressive reaction is the clients noticing the
plants look cleaner. It leaves a patina - not an artificial shine which seems to repel dust.


A good product.


Good material. Need to offer a product to clean it off floors.


So far there is no phytotoxic reaction on palms which is where I need it the most for mites.


I love it!


We love it as an alternative to our other pest control options, plus it cleans plants!


Am very pleased with it. Still wondering about its ability to kill pests.


As good or better than any other cleaner/shine on the market.


Well worth the $. No toxicity! Good clean valuable product.


Great cleaner with very good insecticidal properties. Experienced delayed, slow leaf drop on Ficus Benj. Must dilute properly to avoid excess shine. Dries hard & doesn't stain. Easy to mix with water. A very useful product.


It seems to be working well for mealy bug & thrip.


Love It! Been waiting for a good cleaner forever! Tried everything, only Pixie is safe, but so sticky.


This is marvelous.


Good product, very expensive.


Has worked well so far. Will definitely continue to purchase.


It has become a major part of our .arsenal. against dirt and pests.


A good product.


Overall it seems to be quite effective, and my techs like using it.


It has a tendency to glue unopened palm fronds, however I can live with that instead of mites.


I love it.


Expensive...I am not sure why or if it is worth the big $'s


I have found this product very easy to work with. It leaves the plants looking and feeling very clean. I will continue its use as long as it is available.


Brand X helps with maintenance. The dust and dirt doesn't stick to leaves. Brand X gives a fresh look to older plants without an oily look.


Seems to work quite well with problem plants like Plomele that have Florida lime on them. When residue is bad, need to let sit overnight and sometimes double apply. On broad leafed plants like Janet Craig its too shinny. Prefer other products for those types. Afraid to use much on accounts because of the stain on floors factor. Nice addition to arsenal.


So far have been very pleased.


Very Good!


A great product!


Here at (xxxxxxx) we are all very excited to use a product that not only cleans and polishes, but also helps eliminate and prevent pests. Thank you!


The only product that we have found the both cleans and eliminates pests.


Have not used with the intent of killing pests, however it does seem to have a detrimental effect on them.
We use 4 oz/gal. instead of 6 oz/gal., and it seems to clean just as well at that rate


A nice solution for .cleaning.


We like to product, however because of several calls about floor surfaces being slick we felt the liability was too high for use on interior accounts so we only use Brand X in the warehouse to prep plants.


I applaud the product. At my preferred dilution, I really like the way it cleans and protects the foliage well beyond my expectations. Not only does it create a protective barrier, the extra benefit makes it a complete cleaner. I would hate to see it become labeled an insecticide rather than a cleaner.


Overall it does what I need to do...clean and control mealy bugs.


Thanks for producing such a great product, but now come up with one that will not make floors slippery.


Very Very good.


I like the fact that it has no odor.

Brand X – Concentrate

(Retail Pricing)

Singles Case *

Pints $ 16.30 ea. $ 14.95 ea. (Makes about 3 Gallons)

Quart $ 27.95 ea. $ 24.50 ea. (Makes about 6 Gallons)

Gallon $105.00 ea $ 89.50 ea. (Makes about 26 Gallon)

* Case Lots: 4 gallons, 12 Pints, 12 Quarts

SouthWest Plantscape Products
"accessories for the maintenance of interior plants"

265 Durley Avenue Camarillo, California 93010
(805) 988-0529 (800) 333-7977